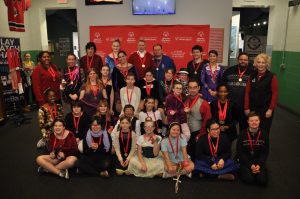 Special Olympics PA – York County Ice Skating Program
Historically one of the the largest programs in the US, in fall 2011 York's became THE LARGEST, with over 20 active skaters.
Head coach is Lin Huber, a registered U.S.Figure Skating coach, with a PSA Category A certification, and also an ISI Judge.
Our program skates every Monday Evening from the beginning of November until the end of February.
We offer a local competition, state competition from which an athlete can attain the World Games Competition, offered every four years at various locals around the world.
A skater wishing to participate in the program must have a Special Olympics medical form signed by the doctor, the forms are available upon request from Lin Huber.
This program is entirely free of charge and skates will be provided.
Come join us for a fun filled evening.
York City Ice Arena   717-843-3959
Loretta Claiborne with Olympic Gold Medalist Scott Hamilton at the World Championships
Here is the Special Olympics PA State Game photo from Feb. 2010 with the Johnstown Chiefs